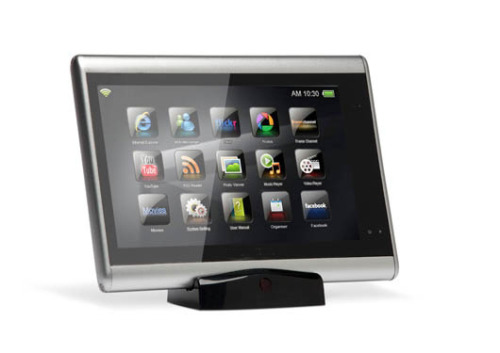 According to the latest Application Market Forecast Tool (AMFT) report released by market research agency IHS iSuppli, the media tablet PC will become the world's fourth-largest semiconductor application field at a fairly rapid rate of growth in 2014. . The media tablet was ranked 35th in the previous (2010) year and will rise to a position comparable to the chip market including mobile phones and personal computers (PCs) after 4 years.
IHS said in the report that in 2014, semiconductor sales for media tablet PCs will increase from US$2.6 billion the previous year to US$18.2 billion, and Apple's first iPad Tablet PC was launched the year before last. By then, semiconductor sales for media tablets will only come after mobile phones, mobile PCs, and desktop PCs.
The year before last, the semiconductor sales ranking for media tablet PCs was even lower than USB flash drives, mobile broadband wireless devices, and flat panel displays.
Dale Ford, Director of Electronics and Semiconductor Research at IHS, stated that in the history of the global semiconductor industry, media tablet PCs have risen to a fairly high position from an almost insignificant position, and the rate of increase has never been seen before. Media Tablets are expected to benefit from the Apple iPad and in just 4 years they have risen to the level of other products, including notebooks and mobile phones. This soaring speed will affect the global semiconductor industry because it has re-positioned for the rapid growth of media tablet PCs and the market share of the market.
The media tablet PC has jumped from the 35th position of the previous year to the 8th largest semiconductor market in its debut (2011). In this year (2012), the media tablet will reach the fifth place in the future and will rise to fourth place in 2014.
In addition, mobile phones will also take the top spot in global semiconductor applications this year, surpassing mobile PCs for the first time.
The jump in tablet PCs to become a part of the chip application market may bring significant changes to the semiconductor market, reshaping the position of the products and market players in the semiconductor industry.
Ford further pointed out that the growth of specific application areas has in the past caused the semiconductor industry to generate a share of the forces, such as: Intel's PC microprocessor or Qualcomm's mobile phone chips. However, media tablet PCs will trigger broader semiconductor demand and offer more opportunities than the original platform.
Ford also observed that in addition to applications processors, baseband and radio frequency (RF) chip products will have great profits, the media tablet PCs are also NAND flash and DRAM, wireless IC, image sensors, micro-motor sensors , LED and power management IC manufacturers bring great business opportunities.
Ford finally said: Therefore, there will be a large number of manufacturers will become the main semiconductor supplier of media tablet PCs, many of the components market also provides these various suppliers with extremely attractive business opportunities.
Being a renowned name in market, we manufacture and supply Power LED Street Light is known for its quick installation and zero flickering. Offered collection is demanded for architectural lighting, outdoor car parking and park lighting as well.Owing to the efforts of our skilled professionals, we have been constantly engaged in offering a qualitative assortment of LED Street Lights.Led Street Lights are made using high grade raw material and advanced techniques. These are widely used in street lighting, highways and other places where high lighting is required.
30-50W Led Street Lights,Net LED Lighting,Led Street Light Philippines,40W LED Street Lights
Yangzhou Bright Solar Solutions Co., Ltd. , https://www.solarlights.pl