CREE, established in 1987, is a world-renowned manufacturer of LED epitaxial, chip, package, LED application solutions and compound semiconductor materials. It has always been at the forefront of the industry with its advanced technology and strong research and development capabilities.

Cree has positioned the Chinese market as the most important market except the United States. To this end, Carey actively implements localized development strategies: establishing chip and packaging factories in China, improving product quality, and increasing sales of devices; at the same time, As the main development direction, green lighting actively promotes the green lighting revolution.

For the future development of China's LED, China National General Manager Tang Guoqing, Cree full confidence, and that 2012 is the LED lighting era really come.

Recently, the reporter interviewed Tang Guoqing on issues related to the development of the LED industry.

Reporter: As a leading company in the LED industry, Career is positioning the Chinese market.

Tang Guoqing: China is the most important market for Cree in the world, and our position is "to be the world in China." Here we will continue to implement Cree's mission of "eliminating the use of inefficient lighting fixtures and leading the new revolution in lighting."

Therefore, the current development plan is to continue to make the Corel expertise in the chip, LED devices do a good job, so that Cree's LED product line can fully meet the needs of different customers in different fields of application; at the same time, in the field of green lighting, we and Philips, NVC and other large companies have established a good cooperative relationship, through strategic cooperation, the formation of complementary advantages, together to promote LED lighting and the entire green lighting system changes.

Reporter: What do you think will happen to the development of LED lighting in 2012?

Tang Guoqing: I am confident in the development of the LED industry in 2012.

There are four main reasons why this is said: First, at the government level, all ministries and local governments have successively introduced industrial policies to promote the development of China's semiconductor lighting industry; the National Development and Reform Commission will also release LED lighting subsidies this quarter This means that the application of LED lighting will be more extensive. Second, people in the industry are more determined to believe in the future of LED lighting. If there are doubts about the development of LED lighting in the industry, they are now from the Beijing Olympic Games, the Shanghai World Expo, and the People's Hall to the people's hall with its familiar landmarks. LED lighting project results can be predicted, LED lighting has become an inevitable trend of market development. Third, for ordinary consumers, especially those who are pursuing green lighting, fashion, and good people are very popular with LED lighting products. Fourth, LED companies including Corey will work together to help China achieve three "10 million" plans, that is, let LED enter thousands of highways, enter millions of buildings and millions of households. Therefore, I believe that 2012 is a really coming year for the lighting age.

Reporter: Although you are full of confidence in 2012 LED lighting, then how do you think 2011 LED companies have suffered a general loss or even closed down the situation?

Tang Guoqing: First of all, I think this statement is inaccurate. The reason is that LED industry chain is very long, including materials, extensions, chips, packages and even applications. The enterprises that have suffered losses in the market are mainly small enterprises in the application sector. In fact, most companies in the LED industry are profitable. In 2011, in the LED industry, there were 10 companies listed, and these companies' stock price-earnings ratios are very high, which is the best proof of the LED.

Reporter: As a person in the industry, what are the suggestions for the development of other LED companies in China?

Tang Guoqing: First of all, any company that is in the industrial chain should first improve its internal strength, do a good job in its own technical areas, continue to carry out technological innovation, and must have its own patented technology; it does not advocate blindly extending the industry chain or capital Operation.

Secondly, efforts are made to reduce costs and produce cost-effective products that meet customer needs; only by continuously reducing costs can the LED lighting market be better opened. Third, companies must continuously improve their management level and cost control capabilities, strengthen services and support, and increase product added value.


XB5 Series Pushbutton Switch is copy Schnaider newest design, which with high quality plastic material and smart design.In electronics, the switch is an electrical component which can break electrical circuit,interrupting current or diverting it from one conductor to another.The most familiar form of switch is a manually operated electromechanical device with one or more sets of electrical contacts.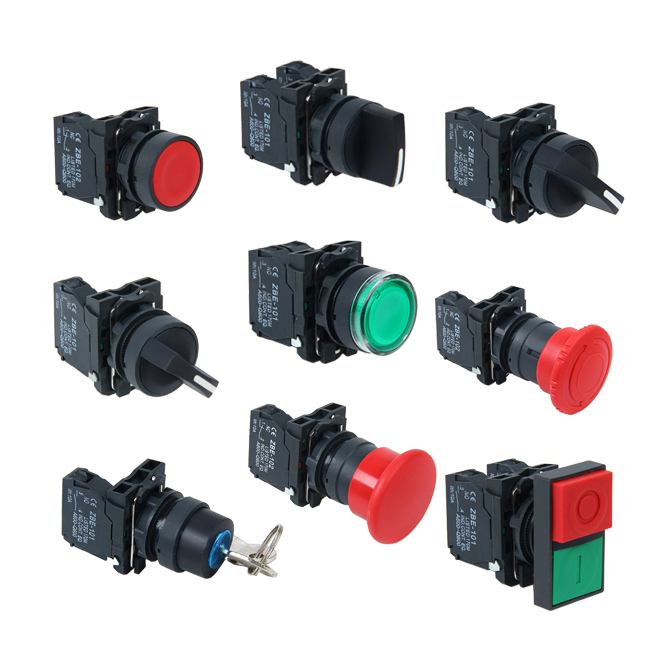 XB5 Series Pushbutton Switch
XB5 Series Pushbutton Switch,Push Button Electrical Switch,Led Push Button Switch,Small Push Button Switch
Ningbo Bond Industrial Electric Co., Ltd. , https://www.bondelectro.com